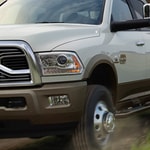 With the Ram 3500 heavy-duty truck, you get much more than size and power. You also get one of the top interiors in its class. That makes the Ram 3500 one of the best all-around vehicles on the road today. Here are some of the more notable interior features available on the Ram 3500.
While the Ram 3500 is a big truck, it doesn't make big noise inside the cabin. That's thanks to the available active noise cancellation system. This system is able to match the sound attempting to invade the cabin of the vehicle and allow you to enjoy a virtually noise-free driving experience.
Also, the interior of the Ram 3500 offers you some surprising cargo space storage. Behind the second row of the Ram 3500, you get up to eight inches of storage space. This is ideal for your tools and other valuable items.