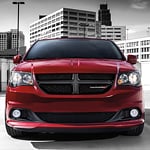 When it comes to family vans that allow you to drive around Decatur, TX in style, you cannot go wrong with the Dodge Grand Caravan. This is a feature-packed vehicle that contains just about everything that you could desire. From the spacious interior to the modern exterior, you will be more than satisfied with this van.
One of the standard exterior features that you will love on the Dodge Grand Caravan is the sunscreen glass. This has just the right level of tint to block out the fierce rays of the sun while still allowing everyone to see out the window. This creates a comfortable effect that you will definitely appreciate.
You will have the option of adding a power feature to the liftgate and the side door. This will come in handy when you need to enter or exit the Dodge Grand Caravan with your hands full. It is yet another example of how convenient this van has become.