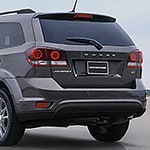 The details in the interior of your car are everything as you move around in it. You should actually be at home in your car. The Dodge Journey has some of the most executive features you should be looking for when considering to purchase a vehicle.
Baby seats. This is inbuilt allowing you to travel with young ones safe and in comfort. When not in use, the booster seats can be folded allowing room for other occupants. The driver seats are very executive with adjustment options. Besides, the seats can be accessed from either side. The seats can also be adjusted back and forth allowing access to the back of the car.
The best part is the storage space for smaller to bigger luggage. Once you add ice to the floor storage, it can act as a cooler. How cool? And for coffee lovers, there's an inbuilt cup holder just for you. If you are impressed by the Dodge Journey interior features and would love to own one, we at Klement Chrysler Dodge Jeep Ram are here to help you.